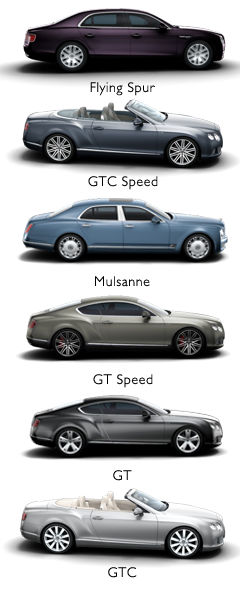 Bentley Mulsanne
On August 16, 2009, Bentley Motors unveiled to the world the Mulsanne, the company's all-new flagship grand tourer at the prestigious Pebble Beach Concours D'Elegance. The Mulsanne was inspired by company founder W.O. Bentley's crowning achievement in 1930, the 8 litre. Nearly 80 years later while paying respect to this illustrious past, the new Mulsanne is a thoroughly modern statement of luxury driving and grand touring.
Chairman and Chief Executive of Bentley Motors, Dr. Franz-Josef Paefgen, stated, "The challenge we set our engineers was to create a new grand Bentley that would stand as the pinnacle of British luxury motoring, offering the world's most exclusive driving experience. They have responded to this challenge with a real passion and the result is a luxury grand tourer that sets new standards in terms of comfort, effortless performance, and hand-crafted refinement-- the very qualities for which Bentley is renowned."
The Mulsanne name reflects Bentley's sporting pedigree and unique association with Le Mans, where Bentley has been victorious six times. The famous corner at the end of the straight is synonymous with the Bentley marque. Few places offer a stronger or more emotive connection with Bentley than the famed Mulsanne corner.
All Further information will be released at the IAA Frankfurt Motor Show, September 15-27, where Mulsanne will be displayed.